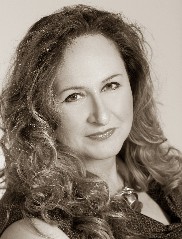 Dorota Dobrolinska-Struck attended the Music Academy in Gdansk and graduated very successfully with a diploma and MA in solo singing and acting as well as a teaching degree with a diploma.
During her studies, she received a scholarship from the Mayor of Sopot, Mr Jacek Karnowski, and a scholarship from the Mayor of Gdansk, Mr Pawel Adamowicz. She also received a private scholarship from her professor, Zofia Janukowicz-Poblocka.
As a young soprano she has been able to expand her knowledge and singing technique personally with experienced and recognised authorities in classical singing such as Fedora Barbieri, Renata Scotto, Rolando Panerai, Ch. Elssner, Z. Lorenz.
She had her successful debut in the role of Tatiana in " Eugene Onegin" by P. I. Tchaikovsky, 1997 with the Symphony Orchestra of the Baltic Opera in Gdansk.
This was followed by solo roles, operas and song recitals, international concerts and participation in festivals such as "Chopin & Friends" in New York.
Dorota Dobrolinska-Struck found her second home in Germany, where she was intensively associated with the Bielefeld Theatre for many years. There she was able to show her skills again and again
her abilities as a multi-faceted soprano, and was able to convince as a talented actress.
For Ms Dobrolinska-Struck, music and especially healthy human singing is healing, it hits the soul and triggers emotions.
Her goal is not only a perfect performance but also interpreting, telling and touching.
As a solo artist, Ms Dobrolinska-Struck now repeatedly gives concerts and is involved in various musical projects.
She also teaches singing at the Hüllhorst Music School and supports interested people in their vocal training.